Justin Timberlake is still in piping hot water with his wife Jessica Biel months after his hand-holding controversy rocked their marriage.
We knew it would take some time for things to get back to normal after the 38-year-old entertainer was caught canoodling with his Palmer co-star Alisha Wainwright in New Orleans last November. However, according to the latest from Us Weekly, the 7th Heaven alum is "still upset" because JT hasn't been doing enough to show his remorse! Oh no…
Related: Justin Showers Jessica Biel With Emoji Love On IG Amid Thier Struggles
In cases like this one where there's picture proof of the regrettable action, you can't take back what's happened but you can certainly do everything in your power to try and make amends. Apparently, this is the bone Jessica has to pick with her man!
It's reportedly become less about the terrible embarrassment Timberlake put her through and more about the broken promises he's made since then.
On how Justin still isn't following through on his word, the insider dished:
"He has been making big promises and not sticking to them as much as she thinks he can and should. He promised that he would be more involved with their family and she doesn't feel like he's doing that."
Yikes. We can't imagine this guy actually likes being in the doghouse, does he?
We mean, this scandal went down less than two months ago and considering the former boy band member's sappy public apology, one would assume he'd still be on his best behavior for the foreseeable future, right?
Well, another source close to the couple told Us a slightly different story and claimed things aren't as bad as they seem:
"Jessica and Justin are not in a tense place at all."
Okay. So, maybe the 37-year-old actress isn't seething with anger the way she probably was when the news first broke — but we're inclined to believe things aren't completely copacetic at home just yet.
A Little Family Time!
It appears the couple did enjoy some family time recently to reconnect after all of the drama.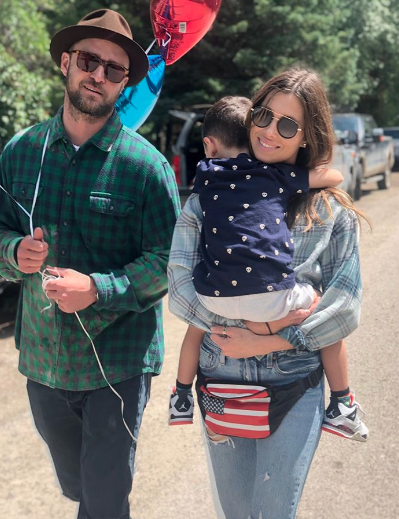 The outlet reported they spent time together with their four-year-old son, Silas, at the Hotel Bel-Air in Los Angeles. One savvy insider explained how others joined them during the staycation at one point, too:
"They had lunch at Wolfgang Puck at the hotel earlier in the week. They also had dinner there with friends the other night."
The parents reportedly "kept to themselves" while dining out and "Justin had his attention focused on Jessica." No suspicious hands underneath the table, or anything like that. Sorry, we had to!
At this point, there's really no telling when the Man of the Woods singer will be officially back in his wife's good graces, but with all of this new information, we guess it'll be a while.
[Image via WENN]
The post Jessica Biel Reportedly 'Still Upset' With Justin Timberlake Months After His Hand-Holding Controversy! appeared first on Perez Hilton.