This might be a little NSFW, y'all!
As we've reported, supermodel Ashley Graham is expecting her first child with husband Justin Ervin and the pair couldn't be happier to finally become parents together.
While they wait on their little bundle of joy to arrive, the couple is reportedly maintaining a very healthy sex life, and according to the momma-to-be, they're doing it with the help of some serious divine intervention: prayer!
Related: Ashley Graham Bares Her Body & Baby Bump In Naked Selfie Video!
During an appearance on Wednesday's A Little Late with Lilly Singh, the 31-year-old opened up about the surprising activity that makes her want to get down and dirty with her man. She admitted:
"I like to do meditations and prayer and so does he on his own. But then, when we do it together, it just feels more powerful."
Prayer and meditation are both powerful spiritual practices that can help some individuals with concentration, focus, and finding peace, among other physical health benefits.
But, how exactly does one get from that "namaste" feeling to a desire for some love-making??
The plus-size catwalk star walked host Lilly Singh and the studio audience through her theory, as she continued:
"When we're praying, it's like, 'Oh, s**t. Oh, oh, do you feel that?'"
Uh, the Holy Spirit, or something with a little more girth to it? LOLz.
"The lights go down, the worship music goes up and we're like, 'Hello!'…After we pray, 'cause priorities, we rip it off! It's great. It's a great bonding experience, for both, you know, the spiritual aspect and the physical aspect."
Well, excuse us!
As it turns out, connecting to a higher power makes Ashley and Justin pretty horny — and while this is quite a hot take, we're not knocking them for it, either. Different strokes for different folks!
This also isn't the first time Graham has been open about her and Ervin's sexual appetite.
Related: Kylie Jenner Shares Sweet Throwback Pregnancy Photo!
Back in January, she confessed to Elle that getting it on with her baby daddy has been the key to keeping their romance alive. At the time, she mused:
"Even if you don't feel like it, just have sex."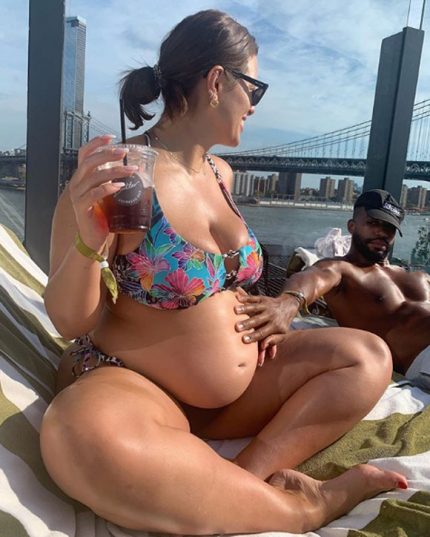 The Pretty Big Deal podcast host also argued it's the best way for the couple to break up any tension:
"We get snippy. And then if we are having sex, we're all over each other. For us it's like, 'Oh, let's have sex.' And then we're just right back in a great mood."
If you think about it, this version of couples therapy is probably what sparked their bun in the oven, so, we can totally get behind this idea!
Reactions to all this, Perezcious readers? If you're curious, check out Ash's sit-down:
And let us know if you'll be dusting off your Bibles anytime soon in the comments section (below)!
[Image via Ashley Graham/Instagram]
The post Pregnant Ashley Graham Says She & Her Husband Get Really Horny… After Praying Together!? appeared first on Perez Hilton.