Just like that, Monday night's episode of The Bachelor easily gave us one of the most-talked-about moments in reality TV history: #ChampagneGate!
In case you missed the second installment of Peter Weber's season on ABC, get yourself a glass of bubbly (trust us, you'll need it), sit back, and let us get you caught up on the hilarity and drama that ensued among the remaining women vying for the airline pilot's heart.
Related: 'Bachelorette' Alum Blake Hortsmann Hospitalized After Crazy Encounter With A Fan
Right out of the gate, we saw last week's dramatic cliffhanger featuring former Bachelorette Hannah Brown get wrapped up swiftly. As expected, the 25-year-old chose not to rejoin the competition and seemingly closed this chapter of her love story with Weber. Sorry to any viewers who were still shipping that reunion, but for now, we're moving on!
Everything that happened after Brown's emotional exit is where things really got interesting.
At the evening's cocktail party, the ladies were pretty eager to get some face time with Peter. One contestant named Kelsey Weier went the extra mile and put together a romantic, fireside champagne moment for two, intended to impress our lead with a special bottle from home that she'd been saving for over a year. The importance of that could NOT be understated!
Unfortunately for her, a different contestant named Hannah Ann Sluss (remember our sweet but aggressive brunette beauty from night one?) happened to stumble upon the alcoholic beverage and enjoyed it with the Bachelor first!
#ChampagneGate begins…
As expected, Kelsey was pretty pissed, but we don't think anyone (except those wicked smart producers) thought she would erupt the way she did! The starlet absolutely lost it and didn't hesitate to accuse her competitor of purposefully ruining her moment.
Here's the thing: there was actually another champagne set up in a different part of the mansion supposedly intended for Hannah Ann and somehow their lines got crossed. At least, that's what the 23-year-old model would like us to believe.
Peter then attempted to smooth things over and pop open the other bottle with Kelsey. However, between all of the hoopla, the bubbly exploded in the contestant's face when she tried to take a sip!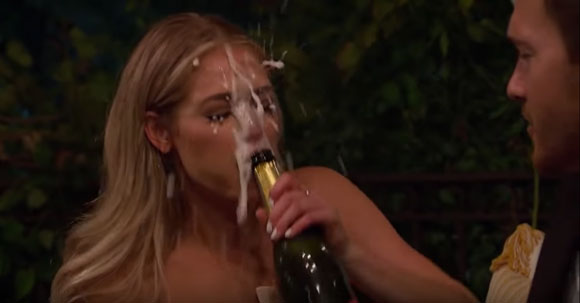 OMG.
Yeah… we were not exaggerating when we said it was bad, but if you can believe it, things only got worse from there.
Instead of laughing at herself and playing it cool, Kelsey continued her tirade against Hannah Ann! Neither woman would back down in their own defense and regardless of who was right, the entire situation shined an unfavorable light on them both. A "she said, she said" scenario rarely ends well on this show and according to Twitter, Bachelor Nation is split on who's telling the truth. Although, there is one consensus: the producers definitely played their part in this one!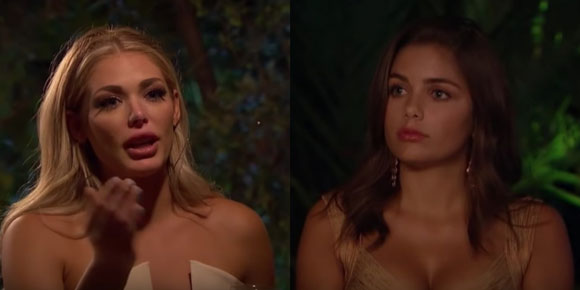 There was a brief break after this drama to give us a breather when the women go on a group date the next day.
The event was a fashion show hosted by Revolve and the ladies were tasked with giving their best catwalk for a chance at winning thousands of dollars worth of clothing from the brand. We weren't exactly surprised the girl who's occupation is "model," AKA Hannah Ann, won this particular competition. What did catch us off guard was how Victoria Fuller, who's shaping up to be our dark horse this season, went through a full range of emotions before showing all of us her sexy side by modeling in lingerie. Watch out for that girl!
At the end of the night, Peter was once again forced to deal with #ChampagneGate after Hannah Ann sits him down to explain how much of a bully Kelsey really is. But will he take the bait and side with this clear frontrunner?
That all remains to be seen next week!
In the meantime, what did U think of last night's crazzzzy episode? Let us know in the comments (below)!
[Image via Bachelor ABC/YouTube]
The post 'The Bachelor' Recap: Everything You Need To Know About The Dramatic & Tear-Filled #ChampagneGate! appeared first on Perez Hilton.